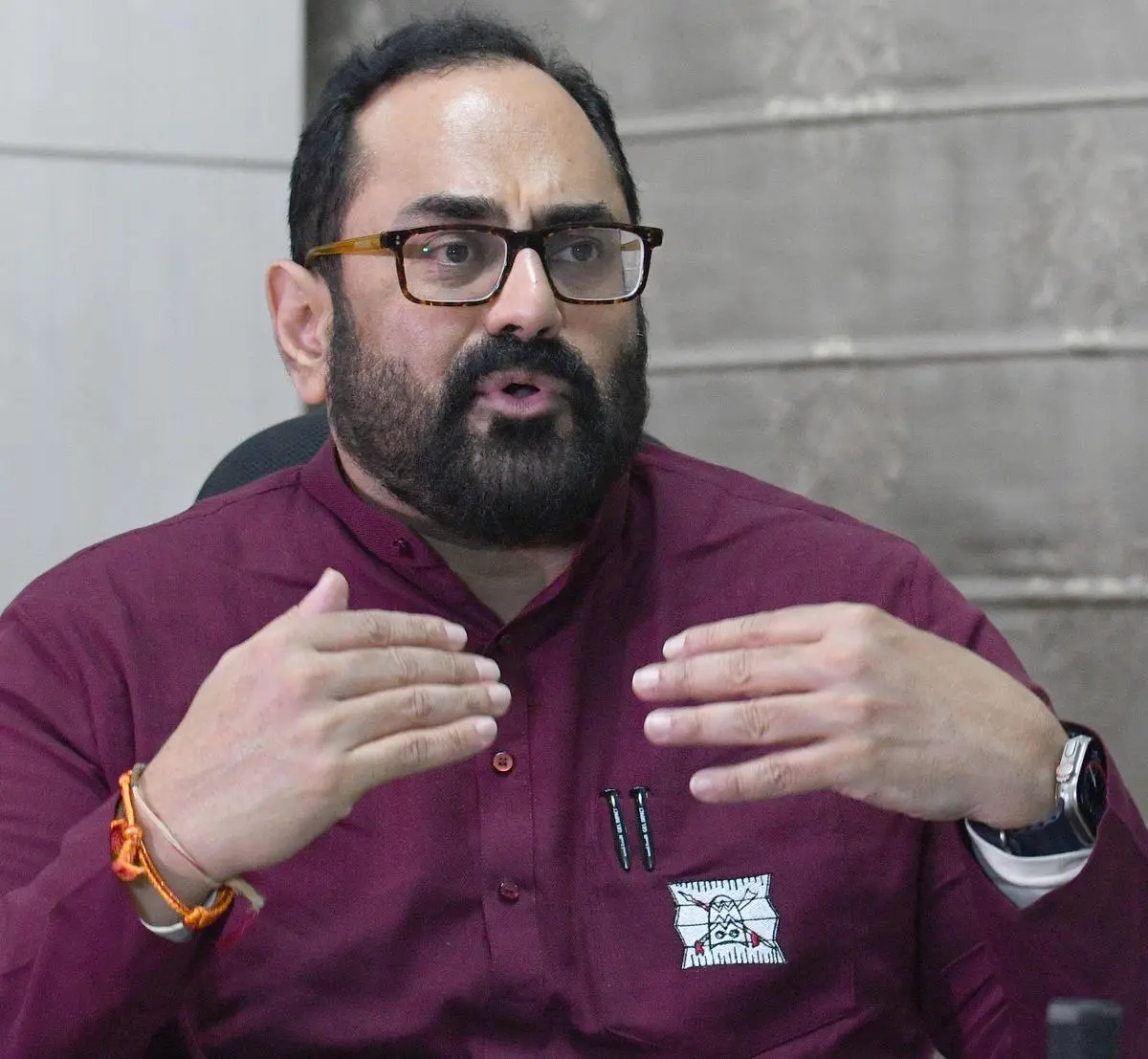 Minister of State for Electronics and Information Technology, Rajeev Chandrasekhar | Photo Credit: KAMAL NARANG
Minister of State for Electronics and Information Technology Rajeev Chandrasekhar on Friday highlighted the challenges of the " deeply in-built imbalance" in terms of the dynamics between the large tech platforms and content creators. He pointed to the power of tech platforms with them controlling more and more of digital advertising revenues.
Speaking at the "Future of Digital Media Conference" organised by the Digital News Publishers Association (DAPA) and exchange4media group, the Minister said, "We hope in the Digital India Act to address the issue of the disproportionate control and the imbalance in the dynamics between content creation and content creators' monetisation requirements and the power that ad tech companies and platforms hold today."
Australian Member of Parliament Paul Fletcher, in a session at the conference, gave insights on the Australian government's experience in regulating the impact of global digital platforms on the Australian media sector. The Australian Parliament passed the News Media Bargaining Code which led Google and Meta to enter into commercial agreements benefiting the local media organisations in that country.
Referring to Fletcher's remarks, the Minister said that "his thinking is not very different from how we are approaching the issue."
Two-pronged approach
Talking about the measures the government is taking to fuel the digital economy, Union Minister Chandrasekhar said that the government's approach in terms of the framework of laws is two-pronged. 
The Digital Personal Data Protection Bill codifies the right to data protection of individual citizens while creating a predictable and easy compliance framework for those who innovate on the internet, he said.  "The second very important prong will be the current IT Act getting superseded by a much more contemporary Digital India Act in the coming months. This two-pronged approach will guide the Indian digital economy and ecosystem and fuel its robust growth in the coming years," he added.
He pointed out that in the last decade significant challenges have emerged in the internet space in terms of domination by some big platforms and the heightened awareness about user harm,
Meanwhile, the Information & Broadcasting Ministry Secretary Apurva Chandra in his special written address at the conference pointed out to challenges being faced by the traditional news industry due to the technology disruptions. He stated that for the growth of the news industry, it is important that the digital platforms of news publishers, who create original content, get a fair share of revenue from the big tech platforms, that act as an aggregator of content created by others.